Long Business Description
Ezra E. Manes is an accomplished author specializing in science fiction novels, including "Entangled Species", "Entangled Awareness", "Transformations", the four-book "Third Moon Rising" series and more. Manes brings his knowledge and experience writing about space exploration in futuristic settings from having worked in the technology sector as program director for design and development of numerous advanced digital image and signal processing systems. After losing his wife to cancer, he has dedicated the proceeds of his books to benefit the American Cancer Society.
Business Address
Thayer, MO
65791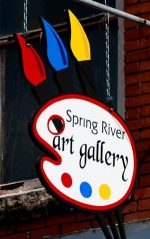 Long Business Description
The Spring River Artist Guild is an association of local artists and offer a Spring River Art Gallery at 300 Main St. in Hardy to  showcase local artists as well as hold various classes.
The hours of operation for the Art Gallery is:
Friday: 12-4pm
Saturday: 10am-rpm
Sunday: 1pm-4pm
Business Address
300 Main St.
Hardy, AR
72542