Long Business Description
Hardy House in Hardy Ar. is a wonderful cottage on main Street, easy access to the shops. Go to
Evolve Vacation Rental to see more info.
Business Address
304 E. Main St.
Hardy, AR 72542
72542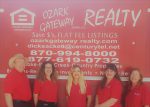 Long Business Description
Ozark Gateway Realty for all your real estate needs, including home, land, commercial building sales, and permanent and vacation home rentals.
Best known for our "FLAT FEE LISTING PROGRAM",  Richard (Dick) Sackett started this brokerage, OZARK GATEWAY REALTY (OGW LLC) in January 2005. He has well over thirty years experience in real estate in several states. He retired as an Army Logistics Colonel and is in the Field Artillery Hall of Fame. He is "retiring" again as Principal Broker passing the title of Principal Broker to his daughter Laura Sackett Clute as of 2015. Crystal Ramsey is our Rental Manager and Sales Agent. In 2014 we welcomed Jessie Ebey as a sales agent. Carrie Wilbanks just joined our team this year as office manager and closing coordinator.
All of us at Ozark Gateway Realty are ready and prepared for all your REAL ESTATE NEEDS! Stop by and ask us how these successful programs can benefit you! WE NEED MORE LISTINGS TO SELL! Our office is located at 1206 Hwy. 62/412, Highland across from the WRMC Emergency Room-THE RED OFFICE! We will share with you coffee or the best program for buying, selling, renting, or investing. We are on the web at www.ozarkgatewayrealty.com and are available at 870-994-8000 or toll free 877-619-0732. We have something for you whether you want to stay in the Spring River Area a Day, a Week or a Lifetime!
Please contact us with for more information about our Flat Fee Listing Program and our Gold Star Tenant Program.
Business Address
1206 Hwy 62/412
72542