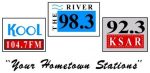 Long Business Description
Your hometown source for news, weather, sports, and entertainment in Northeast Arkansas and Southern Missouri.
KFCM IS "THE RIVER" 98.3FM, COMMUNITY INVOLVED RADIO.
#1 HITS of the 60'S, 70'S and 80'S -The River broadcasts from all major community events in Sharp, Larence, Izard, and Fulton Counties.  Hometown news is featured every half hours, ABC News at the top of the hour.
KSAR - 92.3 FM,   COMMUNITY INVOLVED RADIO, HOMETOWN RADIO, FOR NORTH CENTRAL ARKANSAS AND SOUTHERN MISSOURI.
News, Talk, Sports - KSAR is your "Old Reliable" for local information.  Listen for "total information,"
KOOU IS KOOL 104.7 FM, SPRING RIVER COUNTRY'S HOMETOWN RADIO STATION.
Country Music favorites - You'll see us at most community events in Spring River Country.  World news, hometown news and weather is featured at the top of every hour. We broadcast Highland Rebel Senior & Junior High Footbal; Highland rebel and Lady Rebel Basketball and Softball, and ASU Red Wolf Football and Basketball games.
Business Address
11 FM 101 Rd.
72542
Business Address
PO Box 411
Cherokee Village
72525