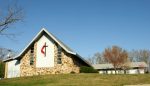 Long Business Description
At Cherokee Village UMC, we are a church alive, seeking to make a difference in the world through sharing the love of Christ, the grace of God and the excitement of  the Holy Spirit. We invite you to join us on this journey.
We gather every Sunday morning for Worship and Sunday School.  We have Bible Studies, Communion and other activities during the week for all ages. It is my hope that we will continue to grow in faith, grace, hope, and love so we can faithfully serve God and make disciples of Jesus Christ, equipped to transform the world with excellence and passion.  Won't you join us as we do this together?
Rev. Angie Gage, Senior Pastor
Business Address
Keno & Otter
72529