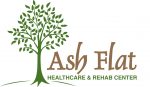 Long Business Description
CARE – COMPASSION – COMFORT

Welcome to Ash Flat Healthcare and Rehabilitation Center, located in the heart of Ash Flat, Arkansas. Whether you are looking for short-term rehabilitation or long-term care or gender specific secure units, you have come to the right place. Our highly skilled healthcare professionals, along with sophisticated therapies and high-tech treatments, deliver world-class care that is patient-centered and dedicated to achieving the best possible outcomes.
At our home, we recognize the importance of providing individualized care with compassion, dignity, and respect for our elders and their families.   We are dedicated to creating a culture of family in our home where everyone can feel honored and cared for.
We provide physical, emotional, and spiritual comfort in a home-like setting for an enriched experience that improves the overall quality of life and promotes optimal healing.
Qualified Staff
With a combined 100+ years of service, our multi-disciplinary medical team and staff provide outstanding patient-focused care to our elders. Between physicians, nurse practitioners and professionals specializing in everything from speech pathology to wound care to physical/occupational therapy to dentistry to podiatry to eye care…we offer a complete package for medical and healthcare needs.
AMENITIES
We offer many services that make our elders' stays feel more like home – or like a luxury hotel – including the following amenities:
Beauty Salon/Barber Shop
Cable Television
Community Flat Screen TVs
Housekeeping Services
Laundry Services
Religious Services
Specialized Diets
Therapeutic Activities
Transportation Services
WiFi
Business Address
66 Ozbirn Lane
72513
Long Business Description
Fountain Place
A Christian Independent Living Campus
Welcome to Fountain Place
Nestled in the expanse of Cherokee Village in north-central Arkansas is Fountain Place, a Christian Independent Living Campus with many apartments and access to all the amenities surrounding our community. Apartments are available at new rates that new residents will find to be pleasantly surprising! Come spend the winter in a mild climate in your very own apartment - we can also help out with "non-medical respite and recovery" temporary stays when necessary. Please contact us for more information concerning availability and rates.
The origins of Fountain Place started in the 1960s as a Master Planned Community. Mr. Cooper constructed this building as his personal residence. Thanks to the efforts of the Spring River Village, Inc. organization and a coalition of over 50 churches, Fountain Place has been transformed into a wonderful Christian Independent Living Campus.
Our fountain in Fall
Business Address
2 Chicksha Dr
72529