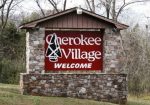 Long Business Description
Cherokee Village is a beautiful 15,000-acre private resort and retirement community located in the Ozark foothills of northern Arkansas. Amenities include two 18-hole golf courses, 6 swimming pools, tennis courts, recreation centers, a fitness center, senior center, horseshoe pits, two nature trails, and seven lakes for boating or fishing. A vibrant, welcoming community, Cherokee Village has numerous clubs and service organizations, and has been twice named Arkansas' Volunteer Community of the Year (2006 and 2016).
Located adjacent to City Hall, the Tourist Information & Welcome Center offers an abundance of information on everything from dining and shopping to winter and summer activities in and around Sharp and Fulton counties. Whether you're simply visiting the area, planning to become a homeowner, or you are an established resident, our volunteers will do their level best to answer your questions, or direct you to whoever else can best do so. We'll help you to locate that piece of property that was left to you in a relative's Last Will, acquaint you with all of the amenities, direct you to great realtors, or tell you how to dispose of that old refrigerator.
Cherokee Village street maps, apparel, and other branded items are also available for purchase at the Cherokee Village Tourist Information & Welcome Center. Whether you're interested in local artisans, culture, history, or the magnificent outdoors that Cherokee Village has to offer, stop by or contact us in advance. We'd love to contribute to your having a memorable experience!
Betty Stokes
Director
Cherokee Village City Hall at Town Center
Hours of Operation:
(April through September) Monday through Saturday, 10:00 am - 4:00 pm
(October through March) open periodically for holidays and special events
Contact Information:
Cherokee Village Tourist Information & Welcome Center
#2 Santee Drive, Cherokee Village AR 72529
Mailing Address:
P.O. Box 129, Cherokee Village, AR 72525
Phone: 870-257-5522 x 234
Business Address
2 Santee Dr
Cherokee Village, AR 72529
72529