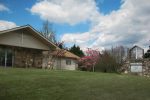 Long Business Description
About VBC
We at Village Bible Church are lovers of God, His Word, His people, and seekers of His will for our lives.
Village Bible Church has ministered in the Cherokee Village area for forty years.
Most churches would agree that the Great Commission, as it is commonly called, is what drives their ministry priorities.  However, churches take different approaches and have different priorities in carrying that out.  We strive hard to maintain an equal focus on local/regional (Judea), national (Samaria), and international (the uttermost parts), regardless of our self-perception of size or abilities.  Jesus said He would be with us always as we engage in the process of making disciples who make disciples who make disciples, etc.  We look to Him and lean on Him for guidance and support as we obey His command to go and make disciples.  We do this in the following ways:
Locally:  We believe it is our command from Jesus to reach our local community with the gospel.  We want people to come to Christ, not just come to a church service.  Of course, we want them to be drawn to Christ when they come to our services and events, so we do not hesitate to invite them, but we dare not assume that our responsibility ends with that!  We provide handy two-sided cards with church information on one side and a gospel tract on the other.  These are intended for our folks to give to people they know and those they meet.
We also reach out to our community through various outreach events and efforts to help connect us, as a church, to our community.
Some of these are more heavily focused on building relationships (game nights, fall family fun day, church in the park, etc.).
We have also done evangelistic meetings at the church in conjunction with things intended to attract those who may not be comfortable in a church setting.
We are active and visible as a church in community events (like roadside cleanup), as well as in supporting local public officials (like the police and fire departments) through appreciation events.
We have supported various local para-church ministries financially and in other ways (New Beginning Crisis Pregnancy Center, a local battered women's shelter, Pilgrimage-Cedar Springs Camp youth ministries, NSCMA food distribution).
Nationally:  as part of the EFCA, Central District, we have been able to be involved, albeit on a lesser scale, in the collective efforts of other Free Churches in planting churches and reaching people in Arkansas, Missouri, Iowa, and southeast South Dakota.  Our involvement here has been reduced in recent years due to financial constraints.  Still, for the first time in the history of the church, in July 2016 we sent a team to help International Community Church reach international students at Mizzou in Columbia, MO.  We are thus strengthening our efforts to be involved beyond the limits of our local area.
Internationally:  Since her beginning, this church has been very involved in international missions.  Many of the folks who have comprised this body of believers over the years have been missionaries to other parts of the world, and/or have had close family members who have done so.  From making and sending bandages to an EFCA mission hospital in Tondala, Africa, to supporting financially missionaries with Wycliffe Bible Translators, to staying in regular (monthly and now weekly) contact with missionaries and praying specifically for them, VBC has maintained a healthy focus on the uttermost parts of the world.
We hope you will take time to get to know all about our church and get answers to all your questions. We want you to know all about our 'Purpose, Vision, and Values'. We invite you to give us a call, email us, or come and worship the Lord with us!
Service Times
Sundays 9:30 a.m. Before Sunday school (9:30 a.m.) we have coffee and donuts in the church basement.
Sundays 9:45 a.m. At 9:45 we start our Sunday school classes.  We have something for everyone.  We see this as a vital aspect of our church's mission to teach the whole word of God (discipleship).
Sundays 10:45 a.m.  At 10:45 a.m. we begin the morning worship service.  If you come before Sunday school classes dismiss, grab a bulletin in the foyer, sign the guest book at the door (if it's your first time), and have a seat anywhere in the sanctuary.  We suggest the front rows – you'll get a better angle from there ????
1st Wednesday of the month  6:30 p.m. We meet in someone's home for about an hour of prayer.  These are special times of prayer fellowship, and we make great efforts to pray during these times rather than just talk about prayer requests.
Weekly men's Bible study and women's Bible study  Throughout the year women meet in a home for Bible study and men typically meet in the church on different nights.  These studies on various topics usually last 2-4 months with a short break between studies.  They are facilitated by leaders who strive to teach the material and keep the discussion moving and on topic.  Often those who do not normally attend Village Bible Church (either from other churches or with no church home of their own) will participate in these studies.
Friday evening children's ministry  On Friday nights (7:00-8:00) we invite families to bring children to the church for a time of Bible teaching, fun activities, crafts, and snacks.  Parents are encouraged to stay and participate with their kids, but have the freedom to sign children in, leave, and return to sign children out when it is over.
Send Message to listing owner