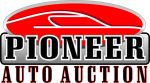 Long Business Description
Our Story and procedures.
Our Auction is Every Thursday night at 6:00 PM and is a full service Dealer/Public Independent auction that can cater to all your needs. Our auction has experienced steady growth in the past few years and is continuing to grow with your support. We get dealer consignments from large dealers and area wholesalers. new car trade-ins, from
dealers, and other leading new car franchises, also bank repossessions from FNBC, Bank of Cave City, Bancorp South, Shelter Bank and others. We also get consignments from retirement estates in the Cherokee Village, Horseshoe Bend, and the surrounding area.
Our friendly staff is at your service, feel free to contact us at any time for all you buying and selling needs.
Policies & Procedures
1. Pioneer Auto Auction Inc. auction cars for sale on a commission basis and is not a merchant or supplier of used cars. All cars are owned by third parties and no warranties are made as to the title by Pioneer Auto Auction
2. Pioneer Auto Auction Inc. is not responsible for fire, theft, damage, or movement of any vehicle to or stored at Pioneer Auto Auction Inc.
3. Commissions must be paid on all cars sold on these premises whether outside or through the ring.
4. Pioneer Auto Auction Inc. makes no warranties as to any car sold on these
premises. All cars sold $1,500.00 or less, are sold "AS IS" unless announced differently, and do not include the right to ride and drive the vehicle before payment, unless representative announces "PERSONAL RIDE & DRIVE", which gives you the privilege for a test drive and as if it was sold for $1,525.00 or more as explained next. A vehicle sold for $1,525.00 or more is sold with a "RIDE & DRIVE" unless announced differently, and may be driven by the purchaser with a PIONEER AUTO AUCTION INC. representative and maybe rejected for a reasonable basis related to it's performance, such as bad motor, transmission, or rear end. No turn down unless there is a $300.00 mechanical problem on motor, transmission, rear end or drive-train. No turn down for air conditioner and blow by or anything visible. Any "RIDE AND DRIVE" vehicles must be driven and accepted or rejected within 30 minutes of purchase at auction.
5. All cars must be paid in full within 45 minutes of purchase. PIONEER AUTO AUCTION INC. does not guarantee the age or mileage of any vehicle. The purchaser will be furnished with an odometer statement completed by the owner of the vehicle, but PIONEER AUTO AUCTION INC. does not guarantee the accuracy. No guarantee is made concerning the year of the vehicle.
6. If selling a vehicle at PIONEER AUTO AUCTION INC. you must represent it to the best of your knowledge with no fraud intended.
7. All complaints or disputes concerning this auction should be addressed to the management of PIONEER AUTO AUCTION INC. and its decision will be final.
8. PIONEER AUTO AUCTION INC. reserves the right to prohibit anyone from doing business on these premises who fails to comply with these rules and policies.
WE ACCEPT CASH, CREDIT/DEBIT CARDS FROM THE PUBLIC, WE ACCEPT CHECKS FROM DEALERS ONLY AND FLOORPLANS AVAILABLE TO DEALERS.
SERVICE CHARGE APPLIES ON CREDIT CARDS, FLOORPLANS ARE FOR DEALERS ONLY
$100.00 RETURN CHECK FEE ON DEALERS
Send Message to listing owner