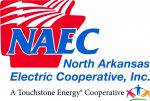 Long Business Description
North Arkansas Electric Cooperative was incorporated in 1939 and just one year later, on June 6th of 1940, energized its first line. As an electric cooperative, NAEC is a private independent electric utility incorporated under the laws of Arkansas. We are owned by the members we serve and governed by a nine member board of directors elected from the membership, which sets policies and procedures that are implemented by the cooperative's professional staff. North Arkansas Electric Cooperative is one of seventeen distribution cooperatives located in Arkansas. Ranked 5th in the state, NAEC serves approximately 36,000 member accounts in Northern Arkansas. With over 4,500 miles of power line and 27 different substation sites, North Arkansas Electric Cooperative provides electric service in parts of seven different counties. North Arkansas Electric Cooperative is headquartered in Salem, Arkansas and operates two other full service offices located in Ash Flat and Mountain Home.
In addition to electric service, North Arkansas Electric Cooperative is involved in community development, small business development and jobs creation, improvement of water and sewer systems, and assistance in delivery of health care and educational services.
In 2000, NAEC became a Touchstone Energy Cooperative, which is an alliance of more than 700 cooperatives in 46 states that collectively deliver power and energy solutions to more than 22 million customers every day. As a member-owned cooperative, we strive to deliver high standards of service to all customers — residential, commercial and industrial. We have a local presence and unique ties to the communities we serve and offer the resources of a nationwide network to bring added value and benefit to customers.
Send Message to listing owner