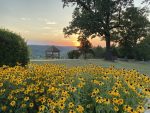 Long Business Description
Bluff Steakhouse
Welcome to the award winning Bluff Steakhouse, located at 20 Bluff Road in Hardy, Arkansas. The restaurant, located in the main house of Biggers Bed & Breakfast, offers a warm and gracious atmosphere in each of our dining areas. Reservations are recommended.
Casual Fine Dining
Whether you are a guest enjoying a relaxing get away at Biggers Bed & Breakfast or a local resident of the Hardy area, you will enjoy a great meal at the Bluff Steakhouse!
DINNER: Call us for Reservations  |  View our Menu
Local: 870-856-4718
Thursday - Saturday 8am to 8pm
Sunday:   8am-2pm
They offer eat in or take out, no reservations required.
THE LUNCH FARE WILL INCLUDE:
Steaks
Catfish
Shrimp
Burgers
Salads
Soup
Sandwiches
Homemade Desserts
Private Club
The Bluff Steakhouse has a private club license to accommodate all your needs. We have a wide variety of beverages available at Biggers Bed & Breakfast and Bluff Steakhouse. Ask your server for more information.
Private Dining
The Bluff Steakhouse can accommodate small to medium dinner parties in our private dining room. Call us today to ask about options for larger gatherings.
Catering
Whether your event is large or small, we can provide a custom menu to fit your needs. Call today for more information.
Send Message to listing owner